Heart of Adoptions Spreads Awareness for National Child Abuse Prevention Month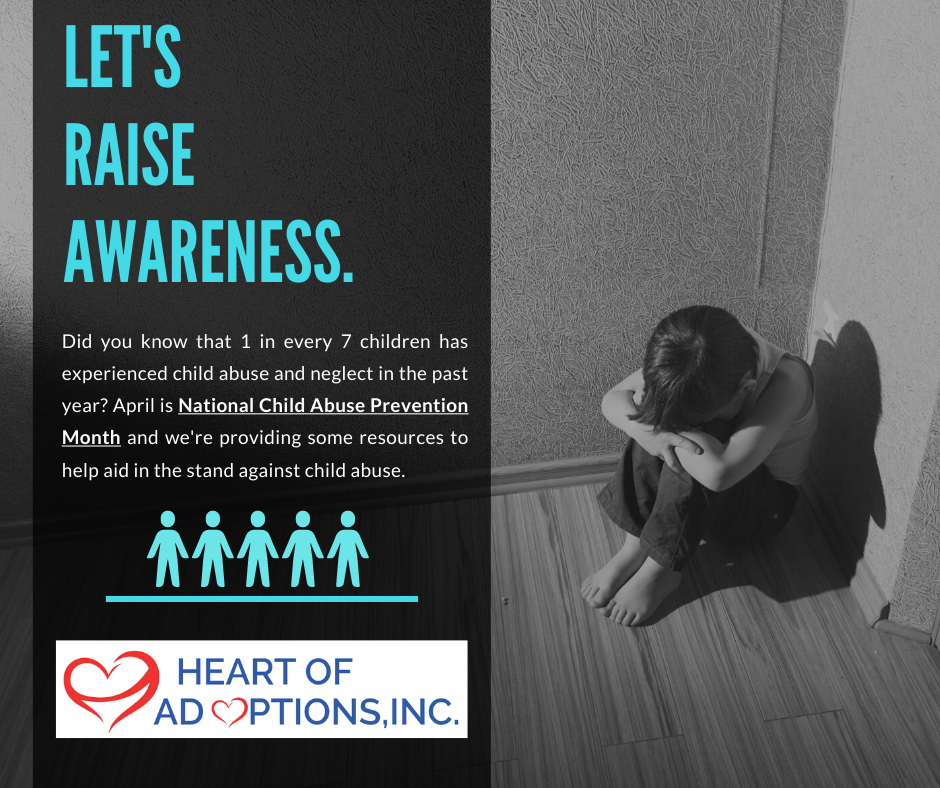 At Heart of Adoptions, children are at the very heart of what we do which is why spreading awareness during National Child Abuse Prevention Month is integral not just in April, but year-round. Here are some need-to-know FAQs surrounding child abuse to assist in spreading awareness.
Q:
What is National Child Abuse Prevention Month?
A: Since 1983, the United States has named April as National Child Abuse Prevention Month in order to raise awareness on preventing child abuse. With over 4.4 million cases, it is our mission to help bring awareness and put an end to child abuse.
Q:
What should I do if I suspect a child is being abused?
A: Always report any instances of suspected child abuse to the proper authorities. Even if you do not know the child personally, you may be that child's only hope of getting out of a dire situation. For more information on how to report child abuse, click here.
Q: What are the effects of childhood exposure to
d
omestic
v
iolence/child abuse?
A: Domestic violence encompasses a range of manipulative, controlling, and violent behaviors exerted by one partner in order to maintain power over the other partner in an intimate relationship. While domestic violence is often recognized as being within a partnership between two people, DV can also be reflected in the wider family dynamic involving children. When situations are growing violent between current or former spouses in a household, children are at risk of exposure to violence in the form of verbal arguments and physical altercations. Witnessing violent acts between parents can have a tremendous impact on children. Click here to read more on our in-depth regarding this subject.
Q: What are some child abuse prevention resources for families?
A: There are many helpful resources on the internet. We've listed a few below:
The Children's Bureau Website Resources
Child Abuse Prevention: Florida Department of Education
Childhelp: National Child Abuse Hotline
Adoption Questions
Regarding Child Safety
Q: Why are home studies required to adopt a child?
A: Home studies are wonderful tools to help birth mothers and caseworkers get to know more about the intended parents and the living environment that the child will be placed in. State and Federal Law requires background checks and fingerprinting for intended parents as checkpoints to help ensure the safety of the child(ren). As another step of precaution, intended parents will need to provide references and speak with a counselor to determine if they are physically, mentally, and emotionally prepared to parent a child. These policies are precautions are put in place to ensure a safe, loving environment is provided for all adopted children.
Q: I don't live in a
n
environment
that is safe for a child
, and I am looking to give
up my
child
for
adoption. What should I do next?
A: As you consider your unplanned pregnancy options, especially adoption, you may come across the common use of the phrase "give baby up for adoption in Florida." This phrase has become popular through media, movies, television, podcasts, and is now practically synonymous with adoption. However, when choosing adoption for your baby, you are not "giving them up." You are giving them the opportunity to have the best life possible, full of opportunity and happiness. It means you are making a selfless decision to put your baby's safety and needs before your own. In other words, it means that you are a great mom. If you are ready to choose adoption for your child, we will help you create an individualized adoption plan that is right for you. You may also be eligible for assistance with living expenses, depending on your circumstances. We can help. Please call us day or night at 1-800-GO-ADOPT or you can Text Us at 877-202-9624.