National Infertility Awareness Week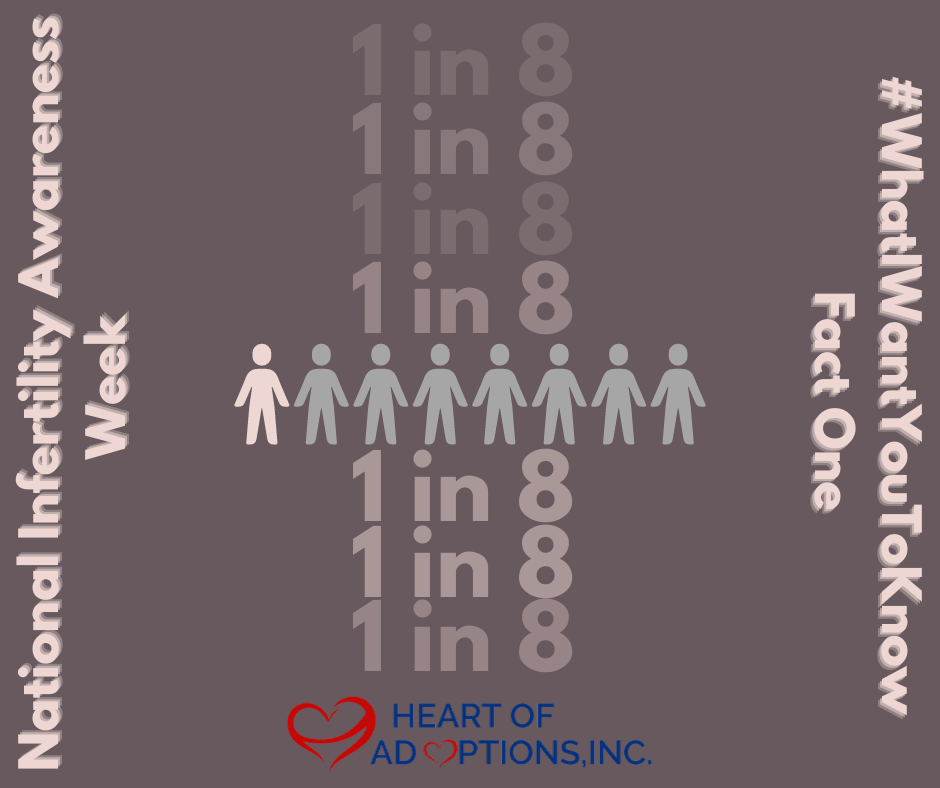 The statistics are heartbreaking.
1 in 8 in the U.S.
1 in 6 in Canada
1 in 7 in the U.K.
1 in 4 worldwide.
The above data reflects the number of people affected by infertility according to the US Centers for Disease Control and Prevention. And while not uncommon throughout the world, many people endure this pain in silence.
You are not Alone.
The purpose of National Infertility Awareness Week is to shed light on the subject. It's allowing real people to have open, honest, and informed discussions regarding infertility.
Why is this important?
Speaking out about your own experiences is widely known to have many benefits. Talking about your frustrations and your fears allows others to know what you are feeling and how this may be affecting your everyday life. Give the people who love you an opportunity to step forward and support you every step of the way.
Sharing your story with others can help those who are suffering silently. You could be the reason someone else doesn't feel alone and isolated. Infertility infiltrates the heart and can have a devastating impact on the mind. Spreading awareness and speaking openly about infertility has the ability to extend a helping hand to those in need.
If you or someone you know needs someone to speak to regarding infertility, the RESOLVE helpline has trained volunteers who have experience with infertility and can help to navigate the available resources.
There are many ways to build a family.
There is no rule book on how a family should be built or what the process should look like. Choose the option that is right for your family.
IVF Treatments.
In Vitro Fertilization is often a method used to help assist with fertility. Learn more about IVF treatments here.
Adoption.
Adoption is a powerful and amazing journey. Interested in adopting a baby or seeking to adopt a child from foster care? There are so many options and resources that are available to you and your family. Call 1-800-GO-ADOPT for more information.
Gestational Surrogacy.
With Gestational Surrogacy, an embryo created through IVF is transferred into the uterus of the Gestational Surrogate. The egg and sperm used to create the embryo may come from both intended parents or it may come from intended parents and donors. Click here to learn more about growing your family through Gestational Surrogacy.
Additional Articles surrounding infertility
Infertility Warriors Gather for Support
Infertility Awareness Week: Author Amy Klein shares her heartfelt journey to have a baby